Accounting
Accounting focuses on measuring performance, and processing and communicating financial information about economic sectors. This discipline ensures that principles such as ethical behaviour, transparency and accountability are adhered to. It deals with the logical, systematic and accurate selection and recording of financial information and transactions, as well as the compilation, analysis, interpretation and communication of financial statements and managerial reports for use by interested parties. The subject encompasses accounting knowledge, skills and values that focus on the financial accounting, managerial accounting and auditing fields. These fields cover a broad spectrum of accounting concepts and skills to prepare learners for a variety of career opportunities.
Afrikaans
Taal is 'n instrument wat gebruik word vir denke en kommunikasie. Dit is ook 'n kulturele en estetiese middel wat mense deel om beter sin te kan maak van die wêreld waarin hulle leef. Die doeltreffende gebruik van taal stel leerders in staat om kennis te verwerf; hulle identiteit, gevoelens en idees uit te druk; interaksie met mekaar en ander te hê en om hulle eie leefwêreld te bestuur. Dit voorsien leerders ook van 'n ryk, kragtige en diepgewortelde stel beelde en idees wat hulle kan gebruik om hulle wêreld te verander en beter te verstaan. Kulturele diversiteit en sosiale verhoudings word opgebou en aangeknoop deur die gebruik van taal. Hierdie verhoudings en sosiale konstruksies word deur taal verbreed en verfyn.
Business Studies
The subject Business Studies deals with the knowledge, skills, attitudes and values critical for informed, productive, ethical and responsible participation in the formal and informal economic sectors. The subject encompasses business principles, theory and practice that underpin the development of entrepreneurial initiatives, sustainable enterprises and economic growth.
The purpose of Business Studies 
Business Studies will ensure that learners:
acquire and apply essential business knowledge, skills and principles to productively and profitably conduct business in changing business environments;
create business opportunities, creatively solve problems and take risks, respecting the rights of others and environmental sustainability;
apply basic leadership and management skills and principles while working with others to accomplish business goals;
are motivated, self-directed, reflective lifelong learners who responsibly manage themselves and their activities while working towards business goals;
are committed to developing themselves and others through business opportunities and ventures;
are able to secure formal employment, and are in a position to pursue sustainable entrepreneurial and self-employment career pathways.
Civil Technologies
Civil Technology focuses on concepts and principles in the built environment and on the technological process. It embraces practical skills and the application of scientific principles. This subject aims to create and improve the built environment to enhance the quality of life of the individual and society and to ensure the sustainable use of the natural environment. The subject focuses on three main areas, namely:
Civil services;
Construction; and
Woodworking
The table below indicates the main topics in Civil Technology.
Safety
Materials
Equipment
Graphics and communications
Terminology
Applied mechanics
Construction
Civil services
Quantities
Joining
Topics to be studied in Civil Technology:
Methods of construction of joinery
Methods of installation of joinery
Designing of wooden structures for buildings
Methods of sustaining wooden installations in a building
Tools and equipment used in the building industry
Woodwork joints
Roof construction
Materials: properties and uses
Construction: from foundation to wall plate level
Applied mechanics
Steel structures
Quantity surveying
Graphics and communication
Sewage and storm-water disposal
Water supply
Sanitary fittings and fitments
Hot water systems
Reticulation systems
Computer Application Technology
Computer Applications Technology is the study of the integrated components of a computer system (hardware and software) and the practical techniques for their efficient use and application to solve everyday problems. The solutions to problems are designed, managed and processed via end-user applications and communicated using appropriate information and communication technologies (ICTs). ICTs are the combination of networks, hardware and software as well as the means of communication, collaboration and engagement that enable the processing, management and exchange of data, information and knowledge.
The diagram below illustrates how the main topic areas of the Computer Applications Technology subject support the teaching of digitally enabled learners.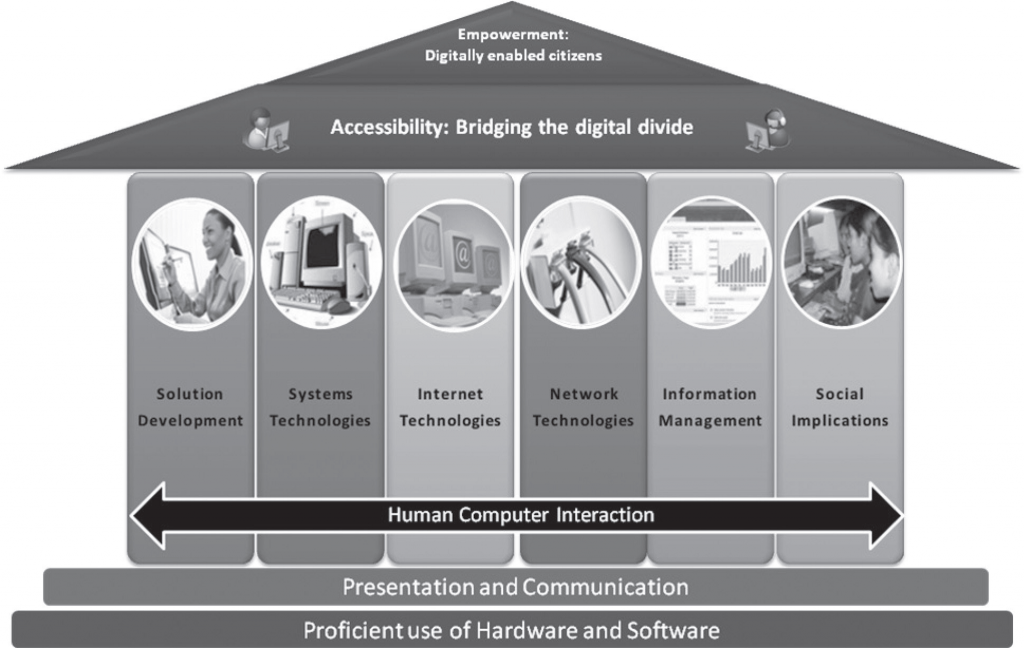 Creative Arts
The subject Creative Arts provides exposure to and study of a range of art forms including dance, drama, music and visual arts (including design and crafts) from Grade R to Grade 9. The main purpose of the subject Creative Arts is to develop learners as creative, imaginative individuals who appreciate the arts and who have the basic knowledge and skills to participate in arts activities and to prepare them for possible further study in the art forms of their choice in Further Education and Training (FET).
SPECIFIC AIMS 
The intention of the subject Creative Arts is to:
develop creative, expressive and innovative individuals and teams;
provide learners with exposure to and experiences in dance, drama, music and visual arts;
provide access to basic arts education for all learners;
identify and nurture artistic talent, aptitude and enthusiasm;
equip learners with adequate basic skills to pursue further studies in the art forms of their choice;
develop an awareness of arts across diverse cultures;
expose learners to the range of careers in the arts;
develop arts literacy and appreciation;
develop future audiences and arts consumers; and
develop life skills through the arts.
Economic & Management Sciences
The subject Economic and Management Sciences deals with the efficient and effective use of different types of private, public or collective resources to satisfy people's needs and wants. It reflects critically on the impact of resource exploitation on the environment and on people. It also deals with effective management of scarce resources in order to maximise profit.
Economic and Management Sciences is a practical subject that equips learners with real-life skills for personal development and the development of the community. The tasks set should contribute to personal development and should promote the idea of sustainable economic growth and the development of the community.
Electrical Technology
Electrical Technology focuses on the understanding and application of electrical and electronic principles. The subject focuses on three main areas of specialization namely:
Electrical
Electronics
Digital Systems
Specific aims
Electrical Technology as a whole aims to equip the learner with a firm foundation in electronic and electrical principles which has been translated from a knowledge base into practical skills by the end of Grade 12.
Through the integrated completion of theoretical work, practical assessment tasks (PAT) and simulations the following skills are developed:
safe work practices
good housekeeping
first aid practices
interpreting circuit diagrams
sourcing components
constructing circuits
installation, testing and troubleshooting of circuits
taking measurements
workshop practice.
Knowledge of subject principles combined with applied electrical skills equips the electrical Technology learner with a unique set of skills, placing her/him apart from other learners and in a category much desired by industry, tertiary institutions and entrepreneurs. Learners with electrical Technology markedly fare better, during the first two years at tertiary level when studying engineering, than learners without this background, giving them the advantage when studying engineering. The need for skilled workers in South Africa has been outlined numerous times in national strategies such as the National Skills Fund (NSF), ASGISA and more.
Engineering, Graphics & Design
Engineering Graphics and Design (EGD) teaches internationally acknowledged principles that have both academic and technical applications. The emphasis in EGD is on teaching specific basic knowledge and various drawing techniques and skills so that the EGD learners will be able to interpret and produce drawings within the contexts of Mechanical Technology, Civil Technology and Electrical Technology.
The main topics of EGD:
• General drawing principles for all technological drawings
• Free-hand drawing
• Instrument drawing
• First- and third-angle orthographic projections
• Descriptive and solid geometry
• Mechanical working drawing
• Civil working drawing
• Isometric drawing
• Perspective drawing
• Electrical diagrams
• Interpenetrations and developments
• Loci of helixes, cams and mechanisms
• The Design Process
• CAD (Computer-Aided Drawing/Design).
The specific aims of EGD are to teach the following:
• Graphical drawings as the primary means of communication in the technological world
• Specific basic content and concepts within the contexts of Mechanical Technology, Civil Technology and
Electrical Technology
• Various instrument and freehand drawing techniques and skills
• Solving technological problems through graphical drawings
• The application of the Design Process
• The implementation of CAD (Computer Aided Drawings/Design) as a drawing method.
The requirements for offering EGD:
• The minimum requirements for an EGD classroom are:
These requirements are the responsibility of the school:
– Sufficient security to safeguard all the required resources and equipment
– Sufficient space for medium-to-large school desks or drawing tables
– Sufficient artificial fluorescent lighting
– Desks with a minimum top size of 700 mm X 450 mm or A2, or larger drawing tables that will sufficiently accommodate an A3 drawing board and drawing instruments
– All the computer hardware and software required for CAD
– A large blackboard and/or whiteboard, with an eraser and chalk/pens
– Large set squares, ruler, protractor and compasses for the black/whiteboard
– Overhead projector and large projector screen
– A large lockable cupboard for all the teacher's files and resource material
– Sufficient cupboards or storage space for all the learners' EGD files
– Approved EGD textbooks, with explanatory examples and exercises for each topic, and teachers' guides
– Sufficient A4 and A3 drawing sheets for all the drawing tasks.
• The minimum requirements for each EGD learner are:
– An approved EGD textbook with self-explanatory examples and exercises for each topic
NOTE:
A workbook/work file may only be used in conjunction with a textbook and not as a substitution for a textbook.
The following requirements should be the responsibility of the learner:
– A large file
– A3 drawing board with a T-square
– Masking tape
– Drawing pencil: 2H, 3H or 4HSESSMENT POLICY STATEMENT (CAPS)
– Eraser
– Ruler
– 30˚/60˚ drawing set square
– 45˚ drawing set square
– Drawing compass, preferably with an adjustment wheel
– Divider
– Small protractor
– Dust cloth
– Calculator
English
Language is a tool for thought and communication. It is also a cultural and aesthetic means commonly shared among a people to make better sense of the world they live in. Learning to use language effectively enables learners to acquire knowledge, to express their identity, feelings and ideas, to interact with others, and to manage their world. It also provides learners with a rich, powerful and deeply rooted set of images and ideas that can be used to make their world other than it is; better and clearer than it is. It is through language that cultural diversity and social relations are expressed and constructed, and it is through language that such constructions can be altered, broadened and refined.
Information Technology
Information Technology is the study of the various interrelated physical and non-physical technologies used for the capturing of data, the processing of data into useful information and the management, presentation and dissemination of data. Information Technology studies the activities that deal with the solution of problems through logical and computational thinking. It includes the physical and non-physical components for the electronic transmission, access, and manipulation of data and information.
The diagram below illustrates how the six main topic areas of the Information Technology curriculum support the teaching of digitally informed learners.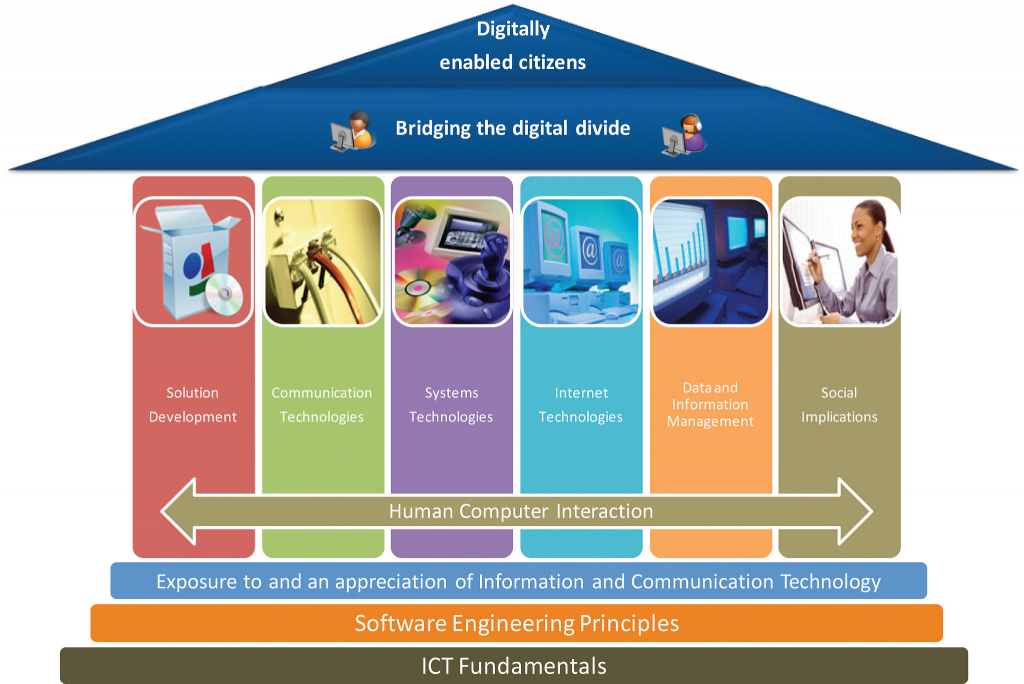 Life Orientation
Life Orientation is central to the holistic development of learners. It addresses skills, knowledge and values for the personal, social, intellectual, emotional and physical growth of learners, and is concerned with the way in which these facets are interrelated. Life Orientation guides and prepares learners for life and its possibilities and equips them for meaningful and successful living in a rapidly changing and transforming society.
The focus of Life Orientation is the development of self-in-society. It promotes self-motivation and teaches learners how to apply goal-setting, problem-solving and decision-making strategies. These serve to facilitate individual growth as part of an effort to create a democratic society, a productive economy and an improved quality of life. Learners are guided to develop their full potential and are provided with opportunities to make informed choices regarding personal and environmental health, study opportunities and future careers.
Life Orientation helps learners to develop beneficial social interactions, such as respecting others' rights and values and promotes lifelong participation in recreation and physical activity.
The subject contains the following five topics in Grades 7 to 9:
1) Development of the self in society
2) Health, social and environmental responsibility
3) Constitutional rights and responsibilities
4) Physical Education
5) World of work
The issues dealt with in each topic are related to the issues covered in the other four topics of the subject. Owing to the interrelated and holistic nature of the subject, the five topics of Life Orientation function interdependently and are considered to be of equal importance. The time spent on each topic may vary and should not be used as a measure of the importance of the topic.
The topics of Life Orientation in Grades 7, 8 and 9 relate to those in the Foundation and Intermediate Phases and Grades 10, 11 and 12. The Grades 7, 8 and 9 Life Orientation curriculums focuses on similar areas of skills, knowledge and values and prepares learners to continue with this subject in Grades 10, 11 and 12. The content taught in lower grades serves as the foundation for the content to be taught in higher grades.
Specific aims
Life Orientation aims to:
Guide learners to achieve their full physical, intellectual, personal, emotional and social potential;
Develop learners' skills to respond to challenges and play an active and responsible role in the economy and society;
Teach learners to exercise their constitutional rights and responsibilities and to respect the rights of others;
Guide learners to make informed and responsible decisions about their health, environment, subject choices, further studies and careers; and
Provide opportunities for learners to demonstrate an understanding of, and participate in activities that promote movement and physical development
Mathematical Literacy
The competencies developed through Mathematical Literacy allow individuals to make sense of, participate in and contribute to the twenty-first century world — a world characterised by numbers, numerically based arguments and data represented and misrepresented in a number of different ways. Such competencies include the ability to reason, make decisions, solve problems, manage resources, interpret information, schedule events and use and apply technology. Learners must be exposed to both mathematical content and real-life contexts to develop these competencies. Mathematical content is needed to make sense of real-life contexts; on the other hand, contexts determine the content that is needed.
The subject Mathematical Literacy should enable the learner to become a self-managing person, a contributing worker and a participating citizen in a developing democracy. The teaching and learning of Mathematical Literacy should thus provide opportunities to analyse problems and devise ways to work mathematically in solving such problems. Opportunities to engage mathematically in this way will also assist learners to become astute consumers of the mathematics reflected in the media.
There are five key elements of Mathematical Literacy.
Mathematical Literacy involves the use of elementary mathematical content. 
The mathematical content of Mathematical Literacy is limited to those elementary mathematical concepts and skills that are relevant to making sense of numerically and statistically based scenarios faced in the everyday lives of individuals (self-managing individuals) and the workplace (contributing workers), and to participating as critical citizens in social and political discussions. In general, the focus is not on abstract mathematical concepts. As a rule of thumb, if the required calculations cannot be performed using a basic four-function calculator, then the calculation is in all likelihood not appropriate for Mathematical Literacy. Furthermore, since the focus in Mathematical Literacy is on making sense of real-life contexts and scenarios, in the Mathematical Literacy classroom mathematical content should not be taught in the absence of context.
Mathematical Literacy involves authentic real-life contexts. 
In exploring and solving real-world problems, it is essential that the contexts learners are exposed to in this subject are authentic (i.e. are drawn from genuine and realistic situations) and relevant, and relate to daily life, the workplace and the wider social, political and global environments. Wherever possible, learners must be able to work with actual real-life problems and resources, rather than with problems developed around constructed, semi-real, contrived and/ or fictitious scenarios. E.g. learners must be exposed to real accounts containing complex and "messy" figures rather than contrived and constructed replicas containing only clean and rounded figures.
Alongside using mathematical knowledge and skills to explore and solve problems related to authentic real-life contexts, learners should also be expected to draw on non-mathematical skills and considerations in making sense of those contexts. E.g. although calculations may reveal that a 10 kg bag of maize meal is the most cost-effective, consideration of the context may dictate that the 5 kg bag will have to be bought because the 10 kg bag cannot fit inside the taxi and/or the buyer does not have enough money to buy the 10 kg bag and/or the buyer has no use for 10 kg, etc. In other words, mathematical content is simply one of many tools that learners must draw on in order to explore and make sense of appropriate contexts.
Mathematical Literacy involves solving familiar and unfamiliar problems. 
It is unrealistic to expect that in the teaching of Mathematical Literacy learners will always be exposed to contexts that are specifically relevant to their lives, and that they will be exposed to all of the contexts that they will one day encounter in the world. Rather, the purpose of this subject is to equip learners with the necessary knowledge and skills to be able to solve problems in any context that they may encounter in daily life and in the workplace, irrespective of whether the context is specifically relevant to their lives or whether the context is familiar. Learners who are mathematically literate should have the capacity and confidence to interpret any real-life context that they encounter, and be able to identify and perform the techniques, calculations and/or other considerations needed to make sense of the context. In this sense Mathematical Literacy develops a general set of skills needed to deal with a particular range of problems.
If Mathematical Literacy is seen in this way, then a primary aim in this subject is to equip learners with a set of skills that transcends both the mathematical content used in solving problems and the context in which the problem is situated. In other words, both the mathematical content and the context are simply tools: the mathematical content provides learners with a means through which to explore contexts; and the contexts add meaning to the mathematical content. But what is more important is that learners develop the ability to devise and apply both mathematical and non-mathematical techniques and considerations in order to explore and make sense of any context, whether the
context is familiar or not.
Mathematical Literacy involves decision making and communication. 
A mathematically literate individual is able to weigh up options by comparing solutions, make decisions regarding the most appropriate choice for a given set of conditions, and communicate decisions using terminology (both 1 Adapted from: Brombacher, A. 2007. Mathematical Literacy – A Reader. Cape Town: Bateleur Books. Mathematical and non-mathematical) appropriate to the context. In the teaching of Mathematical Literacy, teachers should provide learners with opportunities to develop and practise decision-making and communication skills.
Mathematical Literacy involves the use of integrated content and/or skills in solving problems. 
The content, skills and contexts in this document are organised and categorised according to topics. However, problems encountered in everyday contexts are never structured according to individual content topics. Rather, the solving of real-life problems commonly involves the use of content and/or skills drawn from a range of topics, and so, being able to solve problems based in real-life contexts requires the ability to identify and use a wide variety of techniques and skills integrated from across a range of content topics.
Mathematics
Mathematics is a language that makes use of symbols and notations for describing numerical, geometric and graphical relationships. It is a human activity that involves observing, representing and investigating patterns and qualitative relationships in physical and social phenomena and between mathematical objects themselves. It helps to develop mental processes that enhance logical and critical thinking, accuracy and problem solving that will contribute in decision-making.Mathematical problem solving enables us to understand the world (physical, social and economic) around us, and, most of all, to teach us to think creatively. 
Specific Aims 
To develop fluency in computation skills without relying on the usage of calculators.
Mathematical modeling is an important focal point of the curriculum. Real life problems should be incorporated into all sections whenever appropriate. Examples used should be realistic and not contrived. Contextual problems should include issues relating to health, social, economic, cultural, scientific, political and environmental issues whenever possible.
To provide the opportunity to develop in learners the ability to be methodical, to generalize, make conjectures and try to justify or prove them.
To be able to understand and work with number system.
To show Mathematics as a human creation by including the history of Mathematics.
To promote accessibility of Mathematical content to all learners. It could be achieved by catering for learners with different needs.
To develop problem-solving and cognitive skills. Teaching should not be limited to "how"but should rather feature the "when" and "why" of problem types. Learning procedures and proofs without a good understanding of why they are important will leave learners ill-equipped to use their knowledge in later life.
To prepare the learners for further education and training as well as the world of work.
Specific Skills 
To develop essential mathematical skills the learner should:
develop the correct use of the language of Mathematics;
collect, analyse and organise quantitative data to evaluate and critique conclusions;
use mathematical process skills to identify, investigate and solve problems creatively and critically;
use spatial skills and properties of shapes and objects to identify, pose and solve problems creatively and critically;
participate as responsible citizens in the life of local, national and global communities; and
communicate appropriately by using descriptions in words, graphs, symbols, tables and diagrams.
Mechanical Technology
Mechanical Technology focuses on concepts and principles in the mechanical (motor, mining, shipping, rail, powergeneration, etc.) environment and on technological processes. It embraces practical skills and the application of scientific principles. This subject aims to create and improve the engineering and manufacturing environment to enhance the quality of life of the individual and society and ensure the sustainable use of the natural environment.
Specific aims
The learner in Mechanical Technology needs to be interested in any form of mechanical entities. It can be cars, planes, trains, welding, maintenance, etc.
In order to be successful the learner also has to enrol preferably in Mathematics, Physical Science and Engineering Graphics and Design, as they all form part of the technical studying field.
Mechanical Technology in essence is applied science, as the field of work includes trigonometry, Newton's laws and chemical equations when dealing with certain welding techniques, fuel combustion, fuel injection, cooling systems, etc.
The main topics in Mechanical Technology are:
safety – Occupational Health and Safety (OHS) Act;
tools and equipment;
materials – ferrous and non-ferrous materials and alloys and the iron-carbon equilibrium diagram;
terminology – manufacturing processes with reference to lathes (diameter turning, taper cutting, screw cutting) and milling machines (cutting methods, dividing head, centring of cutter);
joining methods – permanent (welding) and semi-permanent (bolts, nuts and rivets) joints;
forces – forces, moments, Young's modulus, stress and strain;
maintenance;
systems and control:
– mechanical – gears, belts, pulleys, power transmission, chains, clutches, cams, levers, etc;
– hydraulics – pistons, valves, Pascal's law;
– pneumatics;
– electrical wiring – starting and charging circuits; and
– electronic applications – anti-lock braking system (ABS), fuel injection, air bag control, etc.;
engines – diesel and petrol, four and two stroke;
pumps – centrifugal, water; and
turbines – super and turbo chargers, gas and steam turbines.
Natural Sciences
Science as we know it today has roots in African, Arabic, Asian, European and American cultures. It has been shaped by the search to understand the natural world through observation, testing and proving of ideas, and has evolved to become part of the cultural heritage of all nations. In all cultures and in all times people have wanted to understand how the physical world works and have needed explanations that satisfy them. 
What is Science? 
Science is a systematic way of looking for explanations and connecting the ideas we have. In Science certain methods of inquiry and investigation are generally used. These methods lend themselves to replication and a systematic approach to scientific inquiry that attempts at objectivity. The methods include formulating hypotheses, and designing and carrying out experiments to test the hypotheses. Repeated investigations are undertaken, and the methods and results are carefully examined and debated before they are accepted as valid.
The science knowledge we teach at school is not in doubt – most of it has been tested and known since the 1800s – but a good teacher will tell the learners something of the arguments and confusion among the people who were the first to investigate this knowledge. Science also explores the frontiers of the unknown. There are many unanswered questions such as: Why is climate changing around the world? What is making the universe expand? What causes the earth's magnetic field to change?
As with all knowledge, scientific knowledge changes over time as scientists acquire new information and people change their ways of viewing the world.
Careful selection of content, and use of a variety of approaches to teaching and learning Science, should promote understanding of:
Science as a discipline that sustains enjoyment and curiosity about the world and natural phenomena
the history of Science and the relationship between Natural Sciences and other subjects
the different cultural contexts in which indigenous knowledge systems have developed
the contribution of Science to social justice and societal development
the need for using scientific knowledge responsibly in the interest of ourselves, of society and the environment
the practical and ethical consequences of decisions based on Science.
Natural Sciences at the Senior Phase level lays the basis of further studies in more specific Science disciplines, such as Life Sciences, Physical Sciences, Earth Sciences or Agricultural Sciences. It prepares learners for active participation in a democratic society that values human rights and promotes responsibility towards the environment.
Natural Sciences can also prepare learners for economic activity and self-expression.
Physical Sciences
Physical Sciences investigate physical and chemical phenomena. This is done through scientific inquiry, application of scientific models, theories and laws in order to explain and predict events in the physical environment. This subject also deals with society's need to understand how the physical environment works in order to benefit from it and responsibly care for it. All scientific and technological knowledge, including Indigenous Knowledge Systems (IKS), is used to address challenges facing society. Indigenous knowledge is knowledge that communities have held, used or are still using; this knowledge has been passed on through generations and has been a source of many innovations and developments including scientific developments. Some concepts found in Indigenous Knowledge
Systems lend themselves to explanation using the scientific method while other concepts do not; this is still knowledge however.
SPECIFIC AIMS OF PHYSICAL SCIENCES 
The purpose of Physical Sciences is to make learners aware of their environment and to equip learners with investigating skills relating to physical and chemical phenomena, for example, lightning and solubility. Examples of some of the skills that are relevant for the study of Physical Sciences are classifying, communicating, measuring, designing an investigation, drawing and evaluating conclusions, formulating models, hypothesising, identifying and controlling variables, inferring, observing and comparing, interpreting, predicting, problem-solving and reflective skills.
Physical Sciences promotes knowledge and skills in scientific inquiry and problem solving; the construction and application of scientific and technological knowledge; an understanding of the nature of science and its relationships to technology, society and the environment.
Physical Sciences prepares learners for future learning, specialist learning, employment, citizenship, holistic development, socio-economic development, and environmental management. Learners choosing Physical Sciences as a subject in Grades 10-12, including those with barriers to learning, can have improved access to: academic courses in Higher Education; professional career paths related to applied science courses and vocational career paths. Physical Sciences plays an increasingly important role in the lives of all South Africans owing to their influence on scientific and technological development, which are necessary for the country's economic growth and the social wellbeing of its people.
Six main knowledge areas inform the subject Physical Sciences. These are:
Matter and Materials
Chemical Systems
Chemical Change
Mechanics
Waves, Sound and Light
Electricity and Magnetism
Social Sciences
The subject Social Sciences consists of History and Geography. Both History and Geography should be taught and assessed during every term of the school year. Although the two disciplines are kept separate, this curriculum is designed to complement the knowledge (content, skills and concepts) outlined in each.
Assessment marks for each subject should be shown separately on school reports – a score for History and another for Geography. They should then be added together and divided by two to give an average score for Social Sciences. This Social Sciences curriculum aims to provide opportunities for learners to look at their own worlds with fresh, critical eyes, and perhaps more importantly, it aims to introduce learners to a world beyond their everyday realities.
Schools should be special places that provide learners with knowledge to which they would otherwise not have access. The importance of depth of knowledge is recognised. Real knowledge demands that learners develop expertise and confidence as a result of in-depth learning. The topics in this curriculum specify pace through hours allocated. Times indicate the depth required.
Learners are trained to speculate, to debate, to make connections, to select, to prioritise and to persist, in tackling real issues and important questions.
It is essential in the teaching of both History and Geography that learners are encouraged to ask questions:
Who? Where? What? Why? When? How? Should? Could? Is/Are? And, by the time they reach the Senior Phase: If?
The questions learners ask give teachers a good indication of prior knowledge, perceptions, interests, insights and concerns.
Language is an important element of both History and Geography. Different forms of text (oral, written and visual) are central to both disciplines. Learning takes place through interaction with these texts. It is important to remember that every teacher is a language teacher. Similarly, writing is a skill that is developed through these two subjects. Learners should write regularly, with a clear progression in length and complexity through the grades. The CAPS language documents specify levels of requirement for writing and should be consulted throughout. Evidence of learner's work, including assessments, should be kept in the learner's notebook.
Technology
Technology education was introduced into the South African curriculum in recognition of the need to produce engineers, technicians and artisans needed in modern society and the need to develop a technologically literate population for the modern world. The subject stimulates learners to be innovative and develops their creative and critical thinking skills. It teaches them to manage time and material resources effectively, provides opportunities for collaborative learning and nurtures teamwork. These skills provide a solid foundation for several FET subjects as well as for the world of work. In the educational context, Technology can be defined as:
The use of knowledge, skills, values and resources to meet people's needs and wants by developing practical solutions to problems, taking social and environmental factors into consideration. 
Specific Aims 
Technology as a subject contributes towards learners' technological literacy by giving them opportunities to:
Develop and apply specific design skills to solve technological problems.
Understand the concepts and knowledge used in Technology education and use them responsibly and purposefully.
Appreciate the interaction between people's values and attitudes, technology, society and the environment.
The intention is to introduce learners to the basics needed in Civil Technology, Mechanical Technology, Electrical Technology and Engineering Graphics and Design. Additionally, learners gain an idea of the way engineers apply scientific principles to practical problems. In addition, evaluation skills will be fostered and the introduction of product design and production will be useful in other FET subjects that use these skills – such as Consumer Studies andDesign.
Tourism
Tourism is the study of the activities, services and industries that deliver a travel experience to groups or individuals.
It is the study of the expectations and behaviour of tourists, and the economic, social and environmental impact of tourism on South Africa
The table below indicates the main topics in the Tourism curriculum:
1 Tourism sectors
2 Map work and tour planning
3 Tourism attractions
4 Sustainable and responsible tourism
5 Domestic, regional and international tourism
(in and out of South Africa)
6 Culture and heritage tourism
7 Foreign exchange
8 Communication and customer care
9 Marketing
Specific aims of Tourism
In the subject Tourism learners will study
different types of tourists and the purpose of their travelling;
the different tourism sectors, with special reference to transport, hospitality, travel organising and support
services, and the attraction sector;
map work;
foreign exchange concepts and the buying power of different foreign currencies;
the influence of world time zones on travel;
South Africa and the SADC countries as tourism destinations;
world famous icons and World Heritage Sites;
sustainable and responsible tourism;
marketing of tourism products;
technology in tourism;
customer care and the value of service excellence; and
tour planning.